Reception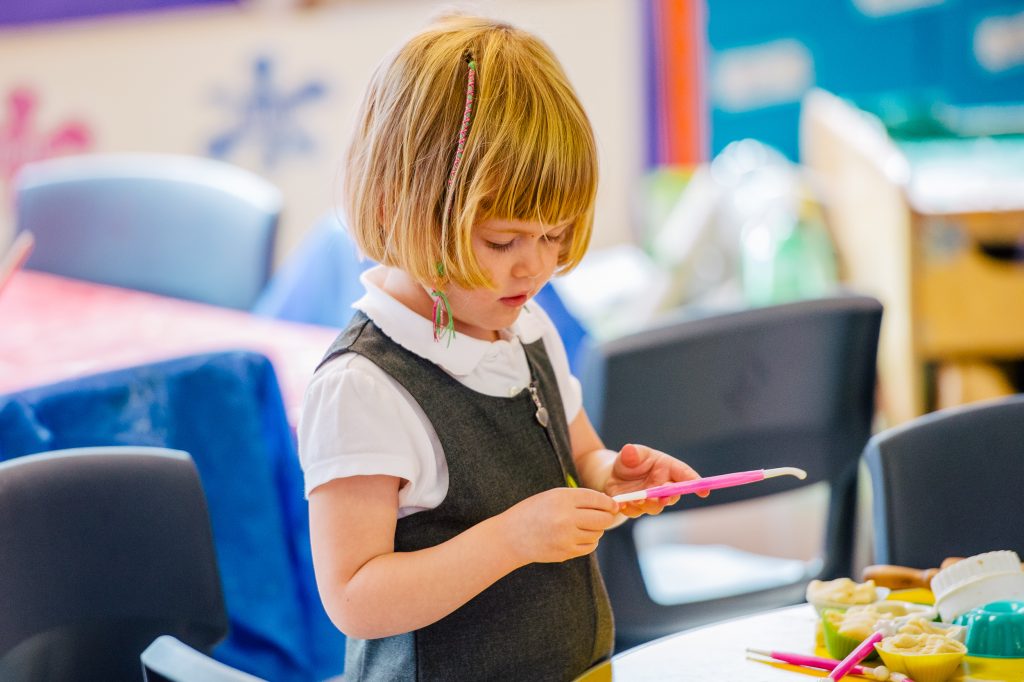 Our Aims
At Oswald Road Primary School we aim to provide the highest quality care and education for all our children thereby giving them a strong foundation for their future learning. We create a safe and happy environment with motivating and enjoyable learning experiences that enable children to become confident and independent. We value the individual child and work alongside parents, carers and others to meet their needs and help every child to reach their full potential. All of your child's achievements will be recorded in their personal 'Learning Journey' which you and your child will have access to throughout the year.
As part of our practice we:
Deliver an exciting and varied, play-centred curriculum, based on the Early Years Foundation Stage (EYFS), across the 17 areas of learning.
Promote equality of opportunity and anti-discriminatory practice.
We provide early intervention for those children who require additional support.
Work in partnership with parents and develop links in the local community.
Plan challenging and stimulating learning experiences, based on the individual child, informed by observation and assessment.
Provide learning experiences developed from child-led ideas.
Build strong relationships with the children in our care.
Provide nurturing and inspiring indoor and outdoor learning environments.
Inspire a love of learning and independence that will remain with them throughout school.
Glossary of Teaching Terms and Abbreviations
Reception Staff
Laura Tracanna- Assistant Headteacher (EYFS) and Teacher
Natalie Hickman – Teacher
Natalie Turton – Teacher
Sarah Greenway- Teacher
Khadijah Iqbal- Teacher
Kelly Nash – Teaching Assistant
Sonia Naveed- Teaching Assistant
Kassandra Simpson – Teaching Assistant
Helen Woolf – Deputy Headteacher and SENCo (Special Educational Needs Co-ordinator)
Deborah Howard- Headteacher
Occasionally, you will see other members of staff working in Reception. Their roles include supporting children who have English as an additional language, completing work experience placements, undergoing a vital part of their Initial Teacher Training or taking over the role of a staff member who may be out on training or other work related activities.
How We Learn in Reception
In Reception, children learn through a combination of adult directed and child initiated activities which take place indoors and outdoors.
In Reception we cover 6 half-termly topics over the year. More in depth information about these topics will be sent out to you each half term. We also participate in trips around the local and wider community to enrich our learning.
If you feel that you have any skills or knowledge that may further enrich our topic we welcome you to get involved, just speak to your child's teacher.
Each week we have a book of the week which is linked to our half-termly topic. These books form the basis of our learning for that week.
The children then work in small groups with either the teacher or teaching assistant on activities linked to the carpet session. For example if we are learning maths we may all sing a counting song together on the carpet and then practise counting out different amounts in small groups.
In Reception the children complete 3 weekly 'Star Challenges'. These are independent tasks planned around our book of the week. One is literacy based, one is maths based and one is a creative activity. We would ask you to talk to the children about their Star Challenges at the start of the week.
The children will also have continuous access to different areas (both indoor and outdoor) throughout the day. These include music, bikes, balls, construction and ICT.
Curriculum
Reception Curriculum Map 2021-22
If you have any questions about our curriculum please contact our Headteacher, Deborah Howard, to pass on to the Curriculum Lead.
Reading Expectations
Click here to view our school reading expectations.
Useful Websites & Resources
Raa Raa The Noisy Lion (CBeebies show designed to help Early Years children with their language and communications skills)
Raa Raa The Noisy Lion- Activity Sheet
Raa Raa The Noisy Lion- top tips for parents
Arrival and Collection of Children
Reception gates open at 8.35am. Each day, we have a morning activity and we encourage you to support your child with this when you arrive. If you need to speak to a member of staff, the morning is a good time to do this (although we are happy to set up meetings at different times for your convenience).
Following October Half Term, our school day will start at 8.45am. It is important that all children are in the class by this time so that our learning can begin promptly.
The day ends at 3.15pm. Children are dropped off and collected in allocated areas on the school grounds (by class).
The Reception staff are part of Oswald Road Primary School and have responsibilities outside of the classroom. It is therefore important that children are collected on time at 3.15pm so that staff can fulfil their duties. Before and after school care is available, for a fee, from 'Early Birds' and 'Owl Club'. Please enquire at the school office for more information.
Food and Drink
All the children are provided with a fruit snack daily. Milk can be ordered from the office and is free to children under 5.
All Reception children are entitled to a free school lunch every day. Alternatively you are welcome to provide your child with a packed lunch from home.
School dinners are cooked on the premises in our kitchen and meet the Government's nutritional standards. They comply with dietary and religious requirements. Menus are sent out regularly. There is one displayed in the hall and on the outer kitchen door. Fresh drinking water is available to children at all times.
A record is kept of any special dietary requirements or food allergies, taken from the child's admission form.
Accidents, Sickness and Medication
There is always a member of staff with a relevant First Aid Qualification on the school's site and, an up-to-date First Aid Box is kept on the premises at all times. Minor accidents are recorded in an accident book.
Please inform us if your child contracts an infectious illness/disease or if they have any other medical problems that we should be aware of as soon as possible. We are unable to accept children who are ill. Please do not send them for 48 hours after sickness and/or diarrhoea or with conjunctivitis as these are particularly contagious. Any child suffering from an infectious disease should be kept home from Reception for the appropriate period of time advised by the doctor.
The Staff of will keep up-to-date records on children's health, e.g. allergies. If your child needs medication, you will need to complete the relevant forms. See also the school's Health & Safety Policy (including administration of medicines).
Security and Child Collection
Security is our highest priority and we take all necessary steps to ensure the premises and surrounding site is secure. Main entry and exit doors are security coded. Please drop your child off at and collect them from the classroom door. The perimeter gates are locked shortly after 9.00am and are not reopened again until 3.15pm. If you are late to drop off or collect outside session hours within the school day, please report to the school office. Please let the office staff know if your child is going to be late or absent. Staff often have meetings/commitments after school, so if you are more than 10 minutes late your child may have to go into after school club at a charge. All staff are DBS checked before being employed by us, as are students and volunteers. For more information please see our Safeguarding Policy.
Fire Procedures
Fire drills are carried out termly. When the fire alarm sounds, the children will be evacuated out of the building to their safe point. The toilets will be checked, by a staff member, for any remaining children. A headcount/register will then be taken to ensure all children and adults are accounted for. Emergency contact numbers will be available from your registration forms for us to contact you should it be necessary. It is therefore your responsibility to inform us if this information should change.