Attendance
"Regular and punctual attendance is vital to good learning"
Regular and punctual attendance is vital to good learning and is, therefore, given very high priority at Oswald Road. A positive attitude toward punctuality is an invaluable life skill and a large part of a positive attitude towards learning. Although we are sympathetic to individual family circumstances, we must also be conscious of the impact lateness and absences have on your child's ability to realise their potential. Our minimum expectation for attendance is 96%.
Amy Nelson & Anna Leece manage our day to day attendance and punctuality.  Any absences should be left on our dedicated Absence Line 0161 881 4266 (selecting extension 1), or you can text us about your child's absence on 07908672385 or email to the address below. Please do so by 9:00am on the day of absence.
For consecutive days of absence we require regular updates, please contact the school, unless you have been advised not to by our Attendance Team.
Email:
attendance@oswaldroad.manchester.sch.uk
If you feel your family needs extra support to ensure your child is attending school or getting here on time, you can apply for an Early Help assessment. Please click here for more information.
You can download our Guide to Good Attendance here.
Click here to see our School Attendance Policy
Click here to see our Term Dates 2023-24
Click here to view 'A Parent's Guide to Managing Sickness Absence from School'.
If your child is unwell and you are unsure whether or not they can come to school, click here.
Click here to view Attendance Guidance for Parents, which answers many FAQs about attendance.
Our gates are open between 8.30am and 8.45am for drop-off and between 3.00pm and 3.25pm for end of the day pick-up.
Registration starts at 8.45am. If you miss the gate, please enter school via the office. Anyone arriving after 8:55am will be marked as late.
Anyone arriving after 9.15am will receive a U mark on the register, which counts as an unauthorised absence mark for the morning.
It is important that parents/carers telephone to inform school if their child is going to be absent informing us of a reason.
School holidays in term time, in line with government ruling, will not be authorised unless under exceptional circumstances. Schools are in session 190 days of the year, leaving 175 days (plus weekends) for any trips, visits, appointments or family holidays.
Parents/Carers will be contacted directly if attendance or punctuality are an area of concern.
Parents will need to provide valid reasons for an absence to be authorised.
If your child needs to attend an urgent appointment, please provide proof of the appointment either by emailing a copy of the letter or bringing it to the office. Where possible, please make appointments outside of school hours.
| | | | |
| --- | --- | --- | --- |
| % Attendance during one school year | Equals days absent | Which is approximately weeks absent | Which means this number of lessons missed |
| 95% | 9 Days | 2 Weeks | 40 lessons |
| 90% | 19 Days | 4 Weeks | 80 lessons |
| 85% | 29 Days | 6 Weeks | 120 lessons |
| 80% | 38 Days | 8 Weeks | 160 lessons |
| 75% | 48 Days | 10 Weeks | 200 lessons |
| 70% | 57 Days | 11.5 Weeks | 230 lessons |
GOOD TIME KEEPING MEANS…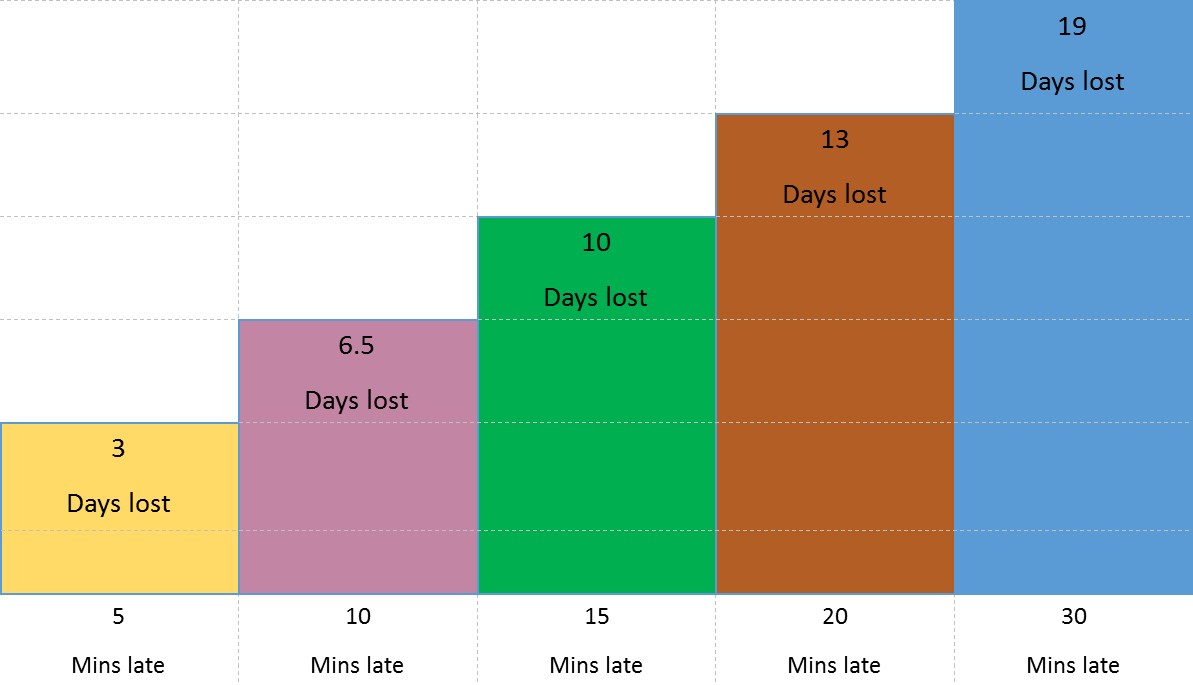 .
… making sure your child is at school and ready to learn, before lessons begin!
Did you know?  Being 15 minutes late each day is the same as missing two weeks of school.
Every school day counts….But every minute is equally important!