UNICEF Rights Respecting Schools Award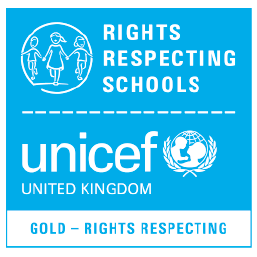 Oswald Road is a Right's Respecting school with a dedicated team of ambassadors that work together to make sure EVERY child has a voice. Staff and children work together to ensure a safe and happy environment for EVERYONE. Children feel a part of the important decision making within the school.
Here at Oswald Road we pride ourselves on the work that we do to support UNICEF and the Rights of the Child!
We are absolutely thrilled to announce that Oswald Road Primary School has been awarded GOLD for Unicef UK's Rights Respecting School Award. We are so proud of all the children, staff, parents, Governors and school community who have helped to make this happen. We're passionate about putting the rights of our children at the heart of everything we do – everyone has a right to a voice in school. Rights Respecting wording runs through our whole curriculum to ensure that not only do we shape rights respecting citizens but that the children address issues that affect them, their community and global issues. Early Years have been introduced to Rights Respecting using Ralphie Right, our friendly puppet and our project ambassadors (children from Years 1-6) have ensured that all children across school have had a voice in all matters that concern them in school.
About the award:
The UK Committee for UNICEF (UNICEF UK) works with schools in the UK to create safe and inspiring places to learn, where children are respected, their talents are nurtured and they are able to thrive. The Rights Respecting Schools Award embeds these values in daily school life and gives children the best chance to lead happy, healthy lives and to be responsible, active citizens.
Our feedback from UNICEF:
The report recognises the following strengths within Oswald Road Primary School:
There is an excellent knowledge of rights across the school community and children use the language around rights in a mature and reflective way.
A strong commitment to children's rights and to RRSA from leaders at all levels, including Governors, tied into the vision and values of the school.
Planned links to relevant articles are embedded across the curriculum in a way that enriches the learning for all children.
Strong pupil participation – there are several different mechanisms for children to feed into decision making and leadership in different areas of school life. Children feel listened to and that their views matter.
An ethos that places positive relationships, based on mutual respect and trust, at the heart of school life.