SEND
Helen Woolf – Deputy Headteacher (Inclusion)
Sam Barrett – Operational Inclusion Lead
Rashmina Mullick- SEND TA
Ozma Ahmed- SEND TA
Tracey Buckley- SEND TA
Kym Harman- SEND TA
Yasmin Atif- SEND TA
Lynne Lowe- SEND TA
Cindy Skerritt- SEND TA
Katie Hough- SEND TA
Eddie Carey- SEND TA
Gill Borkin- SEND TA
Samina Rizvi- SEND TA
Seetal Kaur-Singh- SEND TA
Teresa Regan- Link Educational Psychologist
Helen Adkins- Link Speech and Language Therapist (1 hr per week)
Diane Moat- Specialist SpLD (Specific Learning Difficulty) Teacher (1 hr per week)
Jenny Dubowitz – Trainee Play Therapist (one afternoon per week)
Learning Support Information
Helen Woolf is our school SENCo and has worked at Oswald Road since September 2013. She has achieved the National Award for Special Needs Education (NASENCO) with a Distinction, and graduated from Manchester Metropolitan University on 25th July 2016.
Sam Barrett joined us as the Operational Inclusion Lead in September 2015. Prior to working at Oswald Road, Sam was a HLTA (Higher Level Teaching Assistant) in a very large inner-city school in Manchester, working mainly in KS2. She has worked in both Special Schools and Pupil Referral Units and her specialisms are SEND, behaviour management and EAL (English as an Additional Language).
Click here to see our SEND policy
Click here to read our SEND Information Report
For further information on Manchester's Local Offer for Children and Young People with SEN and disabilities, click here.
COMPLAINTS PROCEDURE
In order to deal with you concern or complaint in the quickest and most straightforward way, we ask that you please direct all concerns or complaints, via email, to the following address : inbox@oswaldroad.manchester.sch.uk
This inbox is reviewed daily by the Headteacher. A copy of the school's Resolutions and Complaints Policy can be found here.
SPEECH & LANGUAGE
Click here for Speech & Language activities that can help your child at home during lockdown. They are really helpful for any children who may be receiving support via the Speech and Language service but they also provide general support to children in EYFS and KS1, especially children with English as an Additional Language.
USEFUL WEBSITES FOR PARENTS OF CHILDREN WITH SEN
General Information Websites & Resources
CBeebies Resources for Parents of Children with SEN
NSPCC Talk PANTS- Guide for Children with Learning Disabilities on Knowing How to Detect Abuse
ADD & ADHD
National Attention Deficit Disorder Information and Support Service
Autism & Aspergers
NSPCC Talk PANTS- Autism-Friendly Guide for Children on Knowing How to Detect Abuse
Local Offer
Manchester Local Offer for Children with Disability & Special Educational Needs
Down's Syndrome
South Manchester Down's Syndrome Support Group
Resources to support children, young people and adults with Down Syndrome
Dyspraxia
Dyslexia
Epilepsy
Obsessive Compulsive Disorder
Visual Impairment
RNIB- Royal National Institute of Blind People
Inclusive Activities in the Local Area
Cheeky Cherubs- Youth club for all abilities/disabilities
Jump Space- a trampolining and rebound therapy centre in Stockport
Click here for information on Autism friendly activities in Manchester
Disability & Special Needs Clubs in Manchester
Autism and Disability Friendly Sessions at Oxygen Freejumping
Trafford Centre Resources
Detailed Autism Friendly Guide
Alert Card for Individuals with ASC
Alert Card for Parents/Carers of ASC Children
PARENT VOICE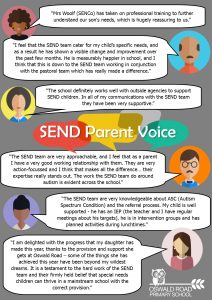 TARGETED TEACHING PROGRAMME- PUPIL VOICE
(click on the images below to enlarge)
LEGO THERAPY- PUPIL VOICE
(click on the images below to enlarge)