Community Hero Award

July 7, 2017 by Ellie Linton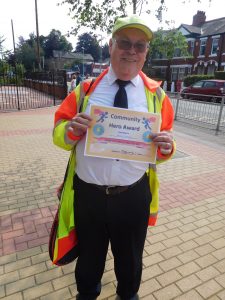 Our first ever Community Hero Award goes to Richard Lanigan, who has been working at Oswald Road as a lollipop man for 10 years. Here's why we think he's so fantastic!
"Richard gives such a warm and friendly start to each day. He takes great pride in his work and goes above and beyond to help keep our community safe. Thank you!"- Kate Murphy, parent
"He's kind and helpful. He's the best lollipop man in the world!"- Luke 2KB and Hannah FS2LT
"Thank you Richard you make sure we are safe on the road." Haroon 5WM
"You always have a smile on your face which makes me happy." Charlie 5WM
"He helps us to cross the road safely and some of the cars drive really fast I feel safe when he is around." Keir 5WM
"Richard is very generous, helpful, kind and sweet. He makes us feel safe when we walk to school. He has manners, which is very important!" Natalie and Mia 2JD
"Richard is certainly a fixture in our daily walk to and from school and sorely missed on days when he's absent! I like his little comments – always given with a wry smile – as well as his cheerful 'Cheerio' on a Friday at home time." Elena Tompkins, parent
"We are extremely grateful for your presence come rain or shone. You make our children feel safe which is invaluable." Donna Wealleans, Assistant Headteacher
"Richard always cheerful, even in the rain or freezing cold!" Helen Wright, Office Manager
"Richard is always very prompt, and even makes sure the adults get across the road safely!" Jacquie Campbell, Receptionist
"We moved to Manchester in 2013, with two small Scottish boys aged 4 and 6. They were reluctant to leave Edinburgh, and anxious about how they would fit in in Manchester. Both were starting school at Oswald Road Primary. For the youngest this was his first day at school, in a new city where people spoke with different accents, and therefore he took his favourite toy, a tiger by the name of Richard, as a comfort on day one. Just before the school a kindly lollipop man said good morning and commented on this splendid tiger poking out of 4 y/o's school bag.
"'What is his name? he asked?'
"'Richard' replied 4 y/o.
"'Ah-ha! Just like me' winked the lollipop man in reply.
"We felt so welcomed by this kind personal act and every morning since then we always say hello to Richard the lollipop man, who steers us and many others safely across the road to and from school every day with a smile."- Perdita Barran, parent
British Values Day
»