Hello and welcome to Oswald Road!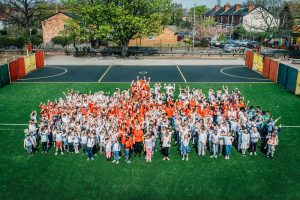 Welcome to Oswald Road Primary School, located in the heart of Chorlton, Manchester, inspiring boys and girls aged 3-11. Our team of staff, parents, carers and governors are committed to providing the highest quality education to prepare our students for their adult lives, offering the challenges and opportunities needed for unlocking your child's potential.
Please take a look through our website for an insight into the broad range of opportunities available at Oswald Road.
We are three-form entry up to Year 6, with a 52 place nursery. The school offers a full set of extended services, including an active PTA – Friends of Oswald Road (FORS), and an energetic and committed team of Governors.
We aim to support all members of the school in developing their individual capabilities and self-esteem through a challenging curriculum delivered by highly qualified teachers and staff. It is our aim to produce well-rounded boys and girls with a love for learning who are instilled with a sense of community and the skills to become exceptional citizens.
---
Did you know, you can help raise money for our fantastic PTA (FORS) simply by shopping online? Sign up to EasyFundraising and you can collect free donations for us every time you buy something online. It costs you nothing, takes about 3 minutes to set up, and there are no adverts or spam mail. Once downloaded, when you shop online, simply click the button on your browser when prompted, and Oswald Road will get a 1-10% cash donation from the retailer. EasyFundraising is supported by a huge selection of online retailers, including eBay, John Lewis, Argos, some supermarkets, holiday booking companies and a whole lot more.
Unfortunately Amazon no longer participate in EasyFundraising donations, and have set up their own version called Amazon Smile- click here.
UKRAINE HELP AND SUPPORT
The Department for Education (DfE) has published a blog providing guidance to teachers and families on how to talk to children and young people about Russia's invasion of Ukraine. The guidance covers how to talk about distressing news stories and how to spot inaccurate information. The Children's Commissioner for England has also published a blog advising that we should not hide what is happening in the Ukraine from children and young people, but support children in understanding it. Meanwhile, Childline has published content to support children and young people who may be worried about the crisis.

Read the DfE blog: Help for teachers and families to talk to pupils about Russia's invasion of Ukraine and how to help them avoid misinformation
Read the Children's Commissioner blog: We should not hide from children what is happening in Ukraine
Read the Childline content: Worrying about Russia and Ukraine

See also on NSPCC Learning
> How to have difficult conversations with children
CORONAVIRUS HELP AND SUPPORT
If you need help dealing with the impacts of Coronavirus, including emergency support, you can contact the Manchester Community Response Helpline for advice and support with food, shopping, loneliness, homelessness, funds/financial matters, fuel and medication. The number to call is 0800 234 6123. Alternatively, you can text 07860 022 876 and they will respond to messages by the next working day. There is also a directory of services available: https://hsm.manchester.gov.uk/kb5/manchester/directory/home.page
If you are worried about the wellbeing and safety of any child, you can contact the NSPCC (https://www.nspcc.org.uk/keeping-children-safe/our-services/nspcc-helpline/) or Manchester Social Care on 0161 234 5001.
Latest News at Oswald Road
April 1st, 2021
The government has today announced its intentions, along with Ofsted, to respond to the issue of peer on peer abuse […]
Click here to view all latest updates