Science Takeover!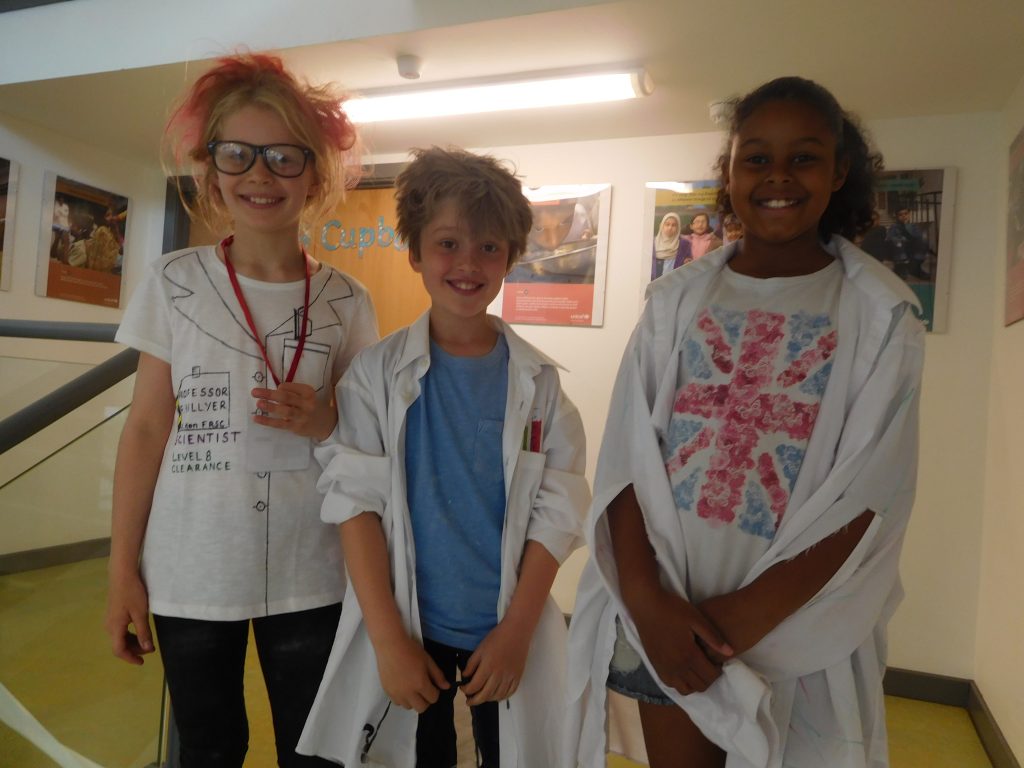 July 12, 2017 by Ellie Linton
On Thursday and Friday last week the children and teachers at Oswald Road got even more investigative and even more curious, as we dedicated two whole days to science exploration. Over the two days of 'Science Takeover' classes got the chance to go up one at a time to visit the Science Lab, which featured loads of great activities, challenges and opportunities to get messy!
Year 3 have been learning all about the features of a plant, and dissected some flowers to see if they could identify them in real life. They also had a go at planting some seeds of their own! Year 2 went on an adventure around Longford Park and in the playground, searching for mini beasts in the building bug hotels.
Year 5 have been learning about the Mars Rover, and how it's designed to land on the surface of the planet without breaking any of the equipment. To simulate this, the children were split into groups and given an egg. They then had to design a parachute and protective layer around their egg, and Mr Salisbury threw them all off the roof to see if the eggs would survive the impact of hitting the playground floor. They all did very well indeed!
Many of the classes also had visits from real life scientists, from research scientists to architects, who all explained how they use science every day in their jobs. And if that wasn't enough, we also had a super science dress up day on the Friday (the highlight of being Mrs Murray dressed as Estee Lauder!) Phew, what a busy two days of science celebrations we had! A big thank you to the amazing Mrs McArdle for organising the whole event, and to all the parents and carers that came in to speak to their child's class.
Here's what the children loved about Science Takeover:
"I liked it when we got to touch real brains. It was really squishy! We had to wear blue gloves that real scientists wear to stop our hands getting dirty."- Goodness 1LH
"I like when my mummy came in to talk about guts and how we get nasty illnesses like flu. My mummy is a research scientist!"- Holly 1LH
"I liked touching the brains and eating the fruit when my mummy came in. She works at the University of Manchester with Holly's mummy."- Joe T 1LH
"We made our own lava lamps using oil, fizzy tablets and food colouring. That was my favourite bit!"- Lenny 1LH
"I liked touching the jars- we had to smell them and guess what as in them!"- Ahmad 1LH
"I really liked the science lab. We got to get really messy, it was fun!"- Evie 2JD
"Science Takeover was SUPER fun! We searched for mini beasts in the playground. I saw two butterflies."- Grace 2SH
"We tested things to see if they would float when we put them in a bowl of water."- Haiqa 2SH
"We found mini beasts in the different areas of the playground. We had tick sheets to keep a record of how many of each insect we found. Then in the science lab we played with ublick. When you punched it it was solid, and when you pressed it slowly it was liquid!"- Rumessa 2SH
"I loved the Science Takeover, it was so much fun! We got to go in the science lab. I loved playing with the ublick and making circuits."- Christina 2SH
"I really like science. We went up to the science lab. I liked sorting the beans and seeds."- Rayan 2SH
"Science Takeover was really fun because we got to do something new. At this school we are always doing something different!"- Isobel 5WM
"I liked Science Takeover because it was something different to do. Our school is always making science and maths as fun as possible, like when we had Spy Day Friday."- Keir 5WM
"I really liked it because it made science fun. We got to do lots of dun things like making paper planes and capsules with eggs in that Mr Sailsbury threw off the roof. Only one of the eggs cracked!"- Max 5WM
"Science Takover was full of fun activities, and there is always something new to do in our school. Making the capsules was my favourite part."- Aminah 5WM
"I liked having two whole days for science. I liked making capsules and paper planes."- Lois 5WM
Year 4 Trip to Ordsall Hall
»