Olympians Join Pupils for Chorlton Walk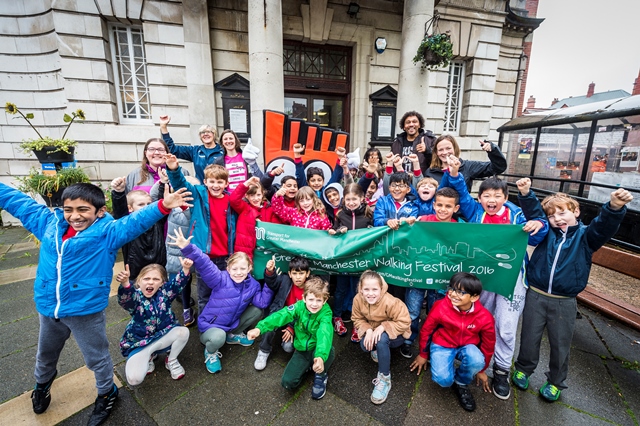 June 20, 2016 by Ellie Linton
Pupils from Oswald Road Primary School got into the Olympic spirit early in advance of this summer's Rio Games when they were joined by two former Olympians for a Greater Manchester Walking festival event.
The Year 3 children were joined by Courtney Fry, a boxer at the 2000 Sydney Olympic Games, and Diane Hennessey (formerly Ashton), who swam for Great Britain in the 1972 Munich Olympics.
The walk, led by walking group 'For the love of Chorlton' and supported by Manchester City Council, was part of the World Fit Campaign 2016, which aims to encourage schoolchildren to walk or run part of the distance from Manchester to Rio (5,813 miles) ahead of the Olympic and Paralympic Games.
Eight-year-old Oswald Road Primary School pupil Owais Hanif said: "I thought the walk was really good and I enjoyed seeing what medals the athletes had. I like walking more than I used to now, and it made me want to walk more often."
Olympian Courtney Fry said after the walk: "It was an amazing turnout and excellent to see everyone involved, with smiles and laughter everywhere. It was so refreshing to see the young people get active. It was a tremendous event!"
Year 3 teacher Leanne Eldridge commented: "The children really enjoyed the walk and were enthusiastic about meeting real life athletes. This activity reinforced the importance of exercise and healthy living for them, and that you don't let the rain prevent you from exercising! It linked with our whole school 'Walk to School Week', and it was really inspiring to be part of a community event."
Mosaic Graduation Event
»