When I Grow Up…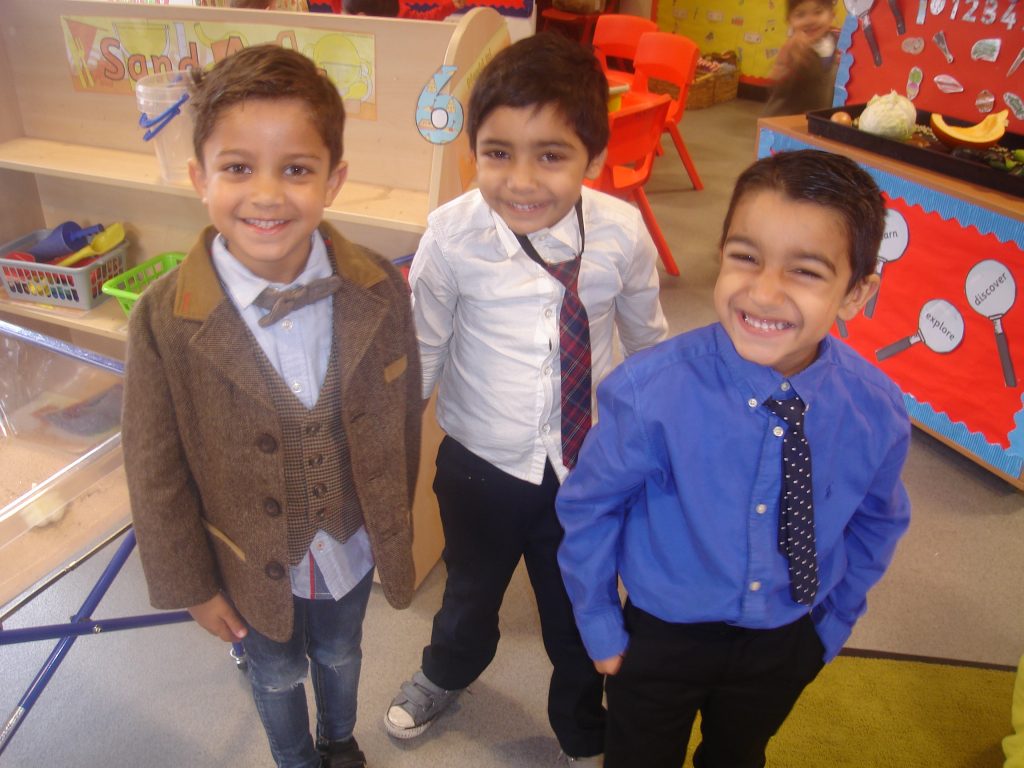 November 3, 2017 by Ellie Linton
Last week was Super Learning Week at Oswald Road and we looked at how maths is used in everyday life and across a wide variety of professions, which might not necessarily appear at first glance to involve maths. Many thanks to all of the parents and carers that came into class to speak to the children about how they use maths in their jobs.
The theme for the the week was 'When I Grow Up', which was all about showing the children how maths will feature in their futures. The children took part in some real life challenges that required them to use their numeracy skills to do things such as managing money effectively, working to a budget and making a profit.
Throughout the week we looked at various at famous mathematicians who have shaped the study of maths throughout the ages, such as Ada Lovelace and Alan Turing. The final challenge was the 'Be the Teacher' activity. At Oswald Road we have a whole-school focus this year on developing children's reasoning and problem-solving skills. One measure of true understanding is when you can explain something to someone else.
To put these skills into practice, each class in KS1 and KS2 was required to plan and deliver a short lesson to a group in a partner class in the year below. To help them get into character the children were encouraged to dress up as teachers for the day…we've never seen so many lanyards in one building before! We even had a few mini Mrs Howards!
"I really enjoyed Super Learning Week because it was encouraging. It included some really fun things!" Christina 3KB
"My favourite thing about Super Learning Week was when we were teaching the Year 2s maths." Nico 3KB
"I liked when the Year 3s came to teach us maths." Suhaib 2SH
"I enjoyed Super Learning Week because it was so much fun and I love maths. I also enjoyed it because we did lots of hard questions and I love hard questions." Aoife 4LM
"I liked that I worked with my friend when I was teaching in Reception." Hannah 1SE
"I enjoyed it when we were teaching the Reception children how to make 7." Evan 1SE
"My favourite part of Super Learning Week was when we picked in groups a career and learnt about tax and why the maths would help us later on in life." Isobel 6NG
"In Super Learning Week I enjoyed dressing up as a teacher because I like dressing up. I also liked teaching Year 4 because I would like to be a teacher when I am older." Juliette 5PS
"I liked when we wrote the numbers and put them on the big ruler." Goodness 2LT
"I liked learning about budgeting because it taught us how maths works when you're older and how to save money. I also liked when we had a visitor as they taught us how maths was involved in their job." Manaal 6KR
"When we taught Year 1 it was fun because we gave everyone a sticker!" Eloise 2SH
"I enjoyed teaching the Year 1s and telling them how to count in twos." Joe 2LT
"I loved Super Learning Week because we got to be the teacher and plan our own lesson. I also loved that we got to pretend to have a job and we had to use the money from that job to work out how much we'd need to pay for a house and a car and all the costs within that." Jake 6NG
"My favourite bit was very fun, I was going a game with them and we had to teach them column addition. I also liked the part where Evan gave out one hundred housepoints each, it was hilarious!" Luna 4MQ
"I loved when we taught the Year 1s place value. I met a lot of new people." Emme 3KG
"I liked Super Learning Week because it helped you realise that maths is everywhere and you got to teach other children." Isobel 6KR
"I liked the bit when we did 'Be the Teacher' because I taught them Roman numerals and they were very good!" Finlay 4MQ
"I loved Super Learning Week because I let them make their own balls and taught them their five times tables and taught them column additional." Suhaib 3KG
"In Super Learning Week mt favourite part was when we got to teach the lower year because it was very interesting and taught us about explaining things. I loved it!" Amelia 6NG
"I liked teaching the Year 4 children- it gave me more confidence! I also liked looking at the teachers' stationary catalogue and pretending to spend a budget for my imaginary class/classroom." Nadia 5PS
"I liked the idea of letting the children have a go at being the teacher and it was great fun." Mohid 5CC
"I enjoyed teaching Mrs Whalley's class because most of the kids were kind and very good listeners." Katelynn 4LM
"I enjoyed working in my group. We were doing 'one more' and 'one less' activities." Gaia 1JJ
"I liked teaching the children in Reception. I taught them one more and one less up to 10." Noah 1JJ
"What I liked about Super Learning Week was the 'be the teacher' task. I enjoyed it because we got to do proper planning and then teach the Year 4s." Isis 5CC
"Super Learning Week was absolutely amazing! Hearing all about the parents' jobs was fascinating and gave the children a real insight into how maths can be applied in real life. Also, the children were fantastic during the Be The Teacher session – I had no idea they were so aware of my teaching strategies!" Miss Rowe
"The children thoroughly enjoyed stepping into their teacher's shoes on 'Be the Teacher Day'. It was so lovely to see so much enthusiasm around the room and to watch every child interacting fully and supporting the learning of the children in the year below them." Miss Grant
"Be the teacher day was so much fun, it was great seeing how the children thought a teacher dressed. They all looked amazing and so grown up!!" Miss Clifton
"Super Learning Week was absolutely fantastic. There was a real sense of enjoyment from 1JJ, especially when they got to be teachers for the day!" Miss Jones
"Be the Teacher day was so good! It was amazing to see all the children acting how they see the teachers around them act! It proves how well our children are being taught and treated and also showed us how responsible they can be!" Mrs Tevlin
"The children were so excited to teach the Reception class maths. They loved using lots of different resources to help their teaching. It was lovely seeing them helping each other. A fantastic day!" Mrs Eldridge
"It was a stunning week. The best maths week we've ever had." Mrs Howard
"Super Learning Week was so much fun for me and the children in my class. I was a bit unsure what the children in my class were going to plan for the year below but could not believe the activities they came up with and when watching them teach the class below blew me away! Having parents come in from totally different jobs, that the children didn't initially think would have anything to do with maths, was so interesting for them and showed them why maths is such an important subject." Miss Millward
"The children absolutely loved the whole experience of Super Learning Week! They loved solving real life 'teacher' problems like how to resource a classroom on a tight budget and how to plan a lesson suitable for everyone. They relished the opportunity of becoming teachers; planning a lesson; making resources and of course; teaching the lesson! They honestly blew me away with their commitment, maturity and quality of the lessons they planned and delivered. A week full of little light bulb moments!" Miss Davis
Staff Appreciation Page: Leanne Eldridge
»