SPORT
HOLIDAY SPORTS CLUB- HOOT CAMP
We are pleased to be able to run holiday sports clubs (Hoot Camp) during half terms and school holidays starting from September 2018. These will be led by our Sports Coach, Kieran Bentley, and are open to children from any school.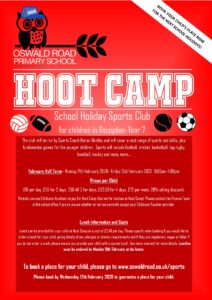 Hoot Camp- How to book
If you'd like to book a place for your child on the next Hoot Camp, please click here. If you are paying for Hoot Camp using Childcare Vouchers you will not need to fill out this online payment form- please instead email k.bentley@oswaldroad.manchester.sch.uk to book. You will, however, still need to fill out the second online form below.
Once you have booked you will need to then complete a separate form to let us know if you'd like to order lunches and to give us your emergency contact details, medical information and allergy details. Click here to complete this form.
Please book by Wednesday 12th February 2020 to guarantee a place for your child, or Monday 10th February 2020 if you'd like to order a lunch.
Parents can use Childcare Vouchers to pay for Hoot Camp (but not for lunches at Hoot Camp). Please contact the Finance Team at the school office if you're unsure whether or not we currently accept your Childcare Voucher provider.
AFTER SCHOOL SPORTS CLUBS WITH KIERAN
Next half term's after school sports clubs, which will be run by our Sports Coach Kieran Bentley, will be as follows:
Tuesday: KS2 Football
Wednesday: KS2 Hockey
Thursday: KS1 Football
These clubs will take place from 3:30pm-4:30pm every week on the days listed above, from Monday 13th January until Friday 14th February.
We are pleased to announce that these clubs will now be free of charge to all children. We therefore expect demand to be high, and as places are strictly limited, please book your child's place as early as possible to avoid disappointment.
If you would like your child to take part in any of these clubs, please complete the online booking form by clicking here.
LUNCHTIME SPORTS CLUBS- SCHOOL OF SPORT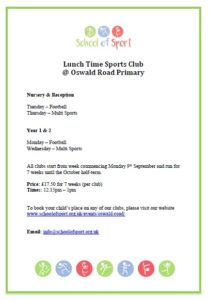 Click here to book your child onto one of this half term's clubs.