SPORT
HOLIDAY SPORTS CLUB- HOOT CAMP
We are pleased to be able to run holiday sports clubs (Hoot Camp) during half terms and school holidays starting from September 2018. These will be led by our Sports Coach, Kieran Bentley, and are open to children from any school. Click on the flyer below to view the details for the next Hoot Camp: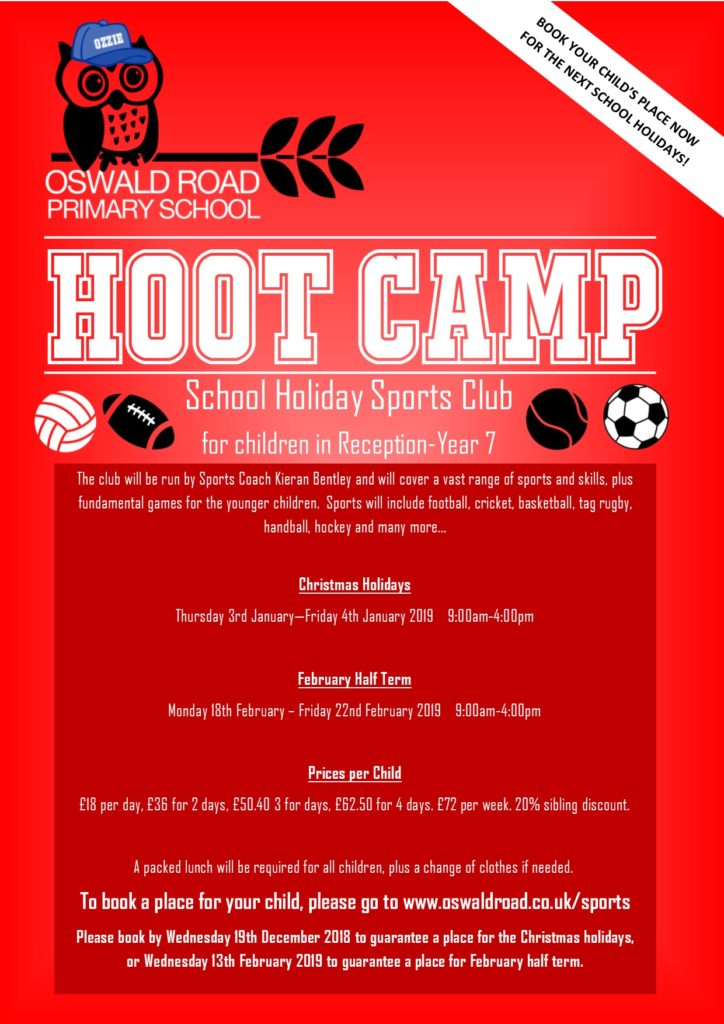 Hoot Camp- How to book
If you'd like to book a place for your child on the next Hoot Camp, please email k.bentley@oswaldroad.manchester.sch.uk with the following details:
Your child's full name (please state in the same email if you are booking a sibling on as well so that we can apply your 20% sibling discount)
Your child's age
Any allergies or medical conditions the supervising staff need to be aware of (eg. inhalers)
Whether or not you give permission for us to take and use photos of your child for promotional purposes
Emergency Contact number(s)- please provide at least two different contacts
How many days you would like to book for
Please book by Wednesday 19th December 2018 to guarantee a place for the Christmas holidays, or Wednesday 13th February 2019 to guarantee a place for February half term. Payments can be made by cash, cheque (payable to Oswald Road Primary School) or bank transfer (we will send you the account details in an email when you book).
AFTER SCHOOL SPORTS CLUBS WITH KIERAN
Monday – Football (Year 3&4)
Tuesday – Fundamental Skills (Reception)
Wednesday – Football (Year 5&6)
Thursday – Football (Year 1&2)
Friday – Multi-Skills (Year 1&2)
These clubs will take place from 3:30pm-4:20pm every week on the days listed above, from Monday 14th January until Friday 5th April.
The cost of these clubs will be £44 for the term (11 weeks at £4 per week). If you would like your child to take part in any of these clubs, please speak to the school office.
LUNCHTIME SPORTS CLUBS- PRO SPORT COACHING
Click here to book your child onto one of this half term's clubs.