SPORT
HOOT CAMP
Due to the ever changing picture of Covid-19 we are unable at this point to guarantee that Hoot Camp will run in the Easter holidays.
We would normally start taking bookings now, but unfortunately we are unable to at the moment.
We will however take notice of interest and communicate directly with you when we have further information.
Please click here to register for your interest in Hoot Camp for the Easter holidays.
AFTER SCHOOL SPORTS CLUBS WITH KIERAN
This half term's after school sports clubs, which will be run by our Sports Coach Kieran Bentley, will be as follows:
Monday: Reception Fundamental Multiskills- FULLY BOOKED
Tuesday: KS2 Football- FULLY BOOKED
Wednesday: KS2 Inclusive Invasion Games (eg. Danish longball, Ultimate Frisbee and handball)- FULLY BOOKED
Thursday: KS1 Football
These clubs will take place from 3:30pm-4:30pm every week on the days listed above, from Monday 2nd March until Friday 3rd April 2020.
We are pleased to announce that these clubs will now be free of charge to all children. We therefore expect demand to be high, and as places are strictly limited, please book your child's place as early as possible to avoid disappointment.
If you would like your child to take part in any of these clubs, please complete the online booking form by clicking here.
LUNCHTIME SPORTS CLUBS- SCHOOL OF SPORT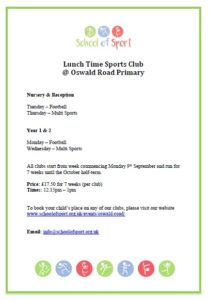 Click here to book your child onto one of this half term's clubs.