Kingswood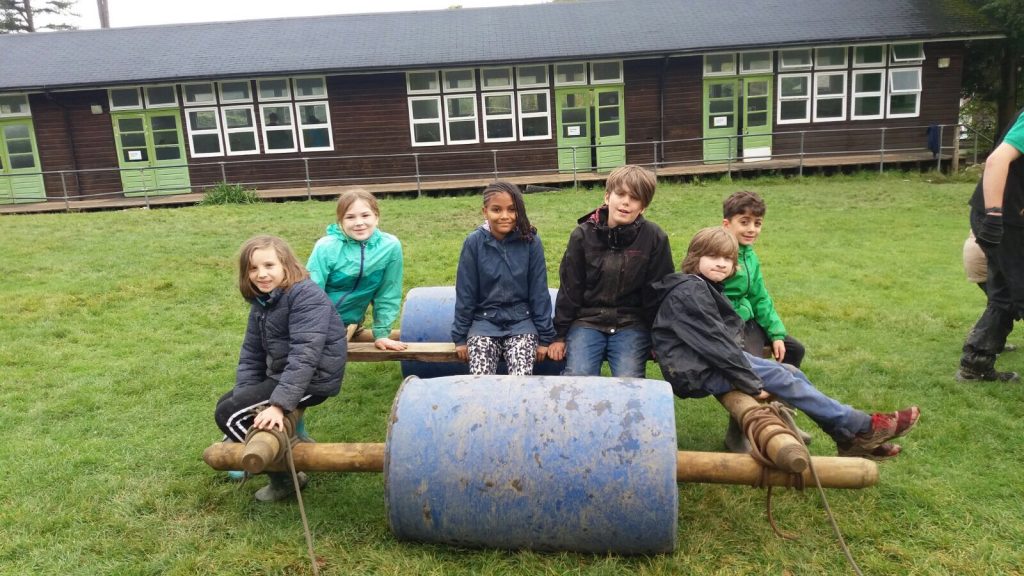 October 5, 2017 by Ellie Linton
Year 6 had a fantastic few days at Kingswood Colomendy last weekend. The action-packed residential trip included loads of exciting activities, including caving, fencing, rock-climbing and volleyball. The children's nerves were tested to the limit after taking a flight on the stomach-churning 3G swing and a walk along the dizzyingly high balance beam, before braving the infamous 'leap of faith'!
Their teamwork skills were developed through group challenges, such as building dens in the forest and constructing their own cars using only logs, barrels and rope. The ultimate test of faith in their teammates came when the children did the 'nightline'. Each group had to complete an obstacle course blindfolded using only a rope and the person in front of them as a guide!
"I enjoyed Kingswood a lot! I really liked the 3G swing because you got lifted up really high, then when you pulled the rope it swung you down. I think the trip made me better at teamwork because we did a lot of activities in a team, like building things and problem solving."- Lori McCarthy Dupuy 6KR
"Kingswood is a marvellous place! Everyone is very happy all the rime, which made me feel happy, even when we had to get up quite early. The activities were very fun and creative. The trip made me feel self-confident because we had to do stuff for ourselves because we were away from home and our parents. It made me feel independent." Sam Pryor 6NG
"Kingswood was amazing! We did a tonne of really exciting activities that tested our trust in our teammates. It made us feel self-confident because everyone would tell us how fantastic we had done just for giving things a go and and also resilient because we did stuff that was out of our comfort zone. I walked across a wire whilst blindfolded!"- Leila McMurray 6WG
"I had a great time at Kingswood. It made me feel creative because we had to problem-solve. The best thing was when we did nightline. We were blindfolded and we had to walk in a line holding on to the person in front of us whilst doing an obstacle course."- Montel Smith 6WG
"We got a lot of self-confidence from trying new things. I was scared of going underground but I tried the caving and I actually enjoyed it! The leap of faith was the best though. We had to climb up to this really small platform that was about two storeys high then jump off and try and touch this yellow bouy." Neve Casey-Wright 6NG
"We definitely had to come out of our comfort zone for the activities. I am scared of heights but I still had a go on the 3G swing. I felt really happy with myself once I had done it! That was my favourite thing that we did." Ciara Begley 6NG
"The best thing was when we went caving because I liked going through all the little gaps. At one point we turned off all our torches and it was completely pitch black, it was so cool! Then Dan rubbed a stone on a piece of quartz and you could see these orange flashes of light. We learnt why quartz is made to use watches. I think that the trip made me feel creative, because we had to build our own dens in the forest. It also made me feel resilient because once I had don the 3G swing it made me feel like I could take on anything!" Amy Lincoln 6NG
"The best thing about Kingswood was the activities because they were really fun. I liked doing caving the best because there were lots of little slides and it was unlike anything I have ever done before. I felt happy because I was brave enough to do all of the activities." Maryam Sarfraz 6KR
"The most fun part of the trip was the 3G swing. I was really nervous before I did it but afterwards I felt self-confident. The leap of faith and the balance beam were the hardest activities for me because I don't like heights, but I still did it which shows that I am resilient." Hannah Lee 6KR
"I think Kingswood was probably the best trip ever. I loved EVERYTHING! The 3G swing and leap of faith were the best things we did I think. Even though it was really scary I felt secure because the Kingswood staff spent ages making sure our harnesses were on properly. I felt inspired by my friend Aaliyah because she showed me that I could be independent and I didn't need to be afraid of anything." Riya Hunjan 6NG
"We had a fantastic time; the children were wonderful throughout and they really pushed themselves." Miss Rowe
"What a wonderful weekend away! The children were all amazing! The resilience and team work they showed over the weekend was fantastic and made it such a lovely weekend for us all." Mrs Walker
"Kingswood was amazing! Watching the children encourage and support each other to overcome their fears was so heart-warming! I particularly loved that the classes were mixed up, so many new friendships and memories were made across Year 6, what a fantastic weekend!" Miss Davis
Eureka!
»