ABRACADABRA! Manchester Day Parade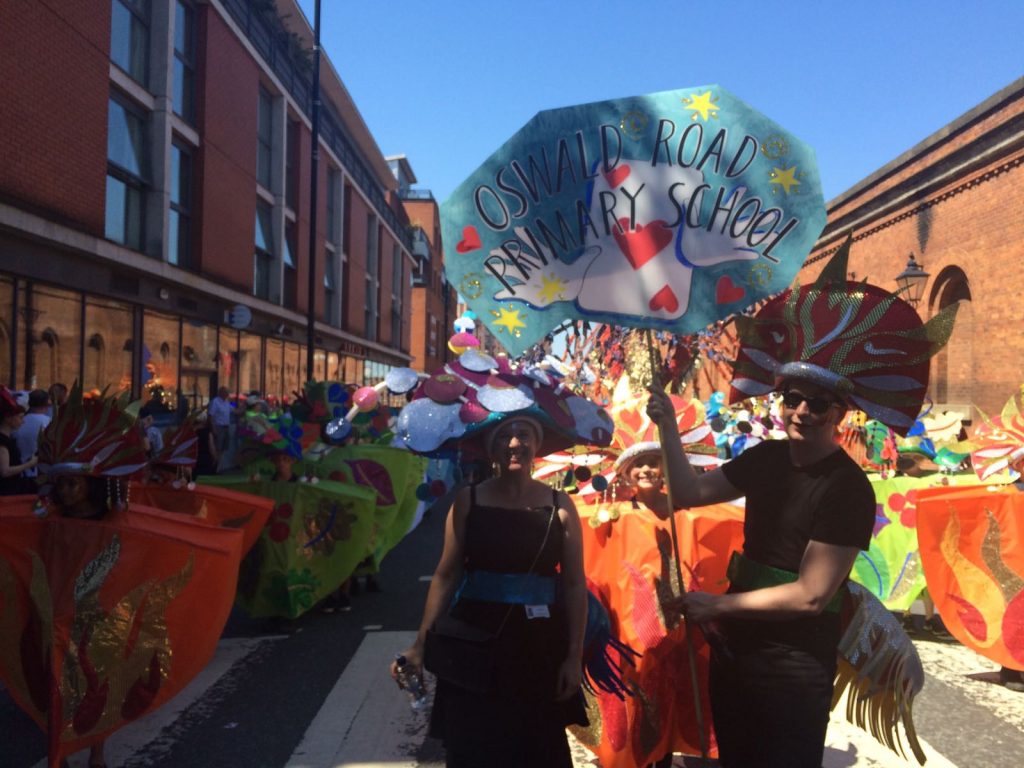 June 20, 2017 by Ellie Linton
Once again children and staff from Oswald Road Primary School wowed at the annual Manchester Day Parade. The chosen theme for 2017 was 'Abracadabra' giving Manchester Day a magical twist. The centrepiece, as always, was the colourful parade featuring mascot, Trix, described as a visitor from the 'enchanted world of Mancunia'.
The theme for the Oswald Roaders' costumes was based on Japanese folklore. 'Kitsune' are Japanese foxes and shapeshifters, believed to possess superior intelligence, long life and magical powers. Each kitsune has a corresponding element, and all of the children and staff from Oswald Road represented either earth, air, fire or water.
The amazing costumes and headdresses were made by the children themselves, overseen and designed by the fantastic Fi and Jo from Walk the Plank. A huge well done to all those who took part- you did so well to stay looking so fabulous in the blistering heat!
"The Manchester Day Parade was so much fun! I like walking in the parade through town and seeing lots of people. I felt very proud."- Darci 5CD
"It was AMAZING! There were so many people there to watch us, and whenever I felt tired from all the walking I just remembered how proud I felt to represent our school."- Isobel 5CD
"I really enjoyed the Manchester Day Parade because we got to make our own costumes. On the day it was quite hot, but we made sure we drank loads of water and had fun!"- Jonah 5WM
"It was a fantastic day out. The children looked amazing, despite the sweltering heat. You could see how much dedication and effort went into the costumes, and the event as a whole."- Mr Hearnshaw
Staff Appreciation Page: Miss Rowe
»